NAVIGATE THE CATALOG BY SECTIONS
| | |
| --- | --- |
| Strain Relief Cord Connectors | |

SKINDICHT® DIX Bushings
Multiple Cable Sealing Bushing for PG & Polyamide NPT SKINTOP® Cable Glands
SKINTOP® DIX is a multiple hole sealing bushing designed to allow several cables to be inserted through one cable gland. This results in a
reduction of space and cost, as a separate cable gland is not required for each cable.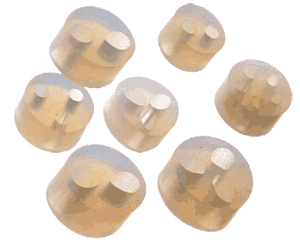 Technical Data:
Color:
Natural
Materials:
Silicone
Temperature:
-40ºC to +100ºC
Protection Seal:
IP 54
IP 68 when all holes are filled
Special shapes available on request. Consult factory for details.